Atlas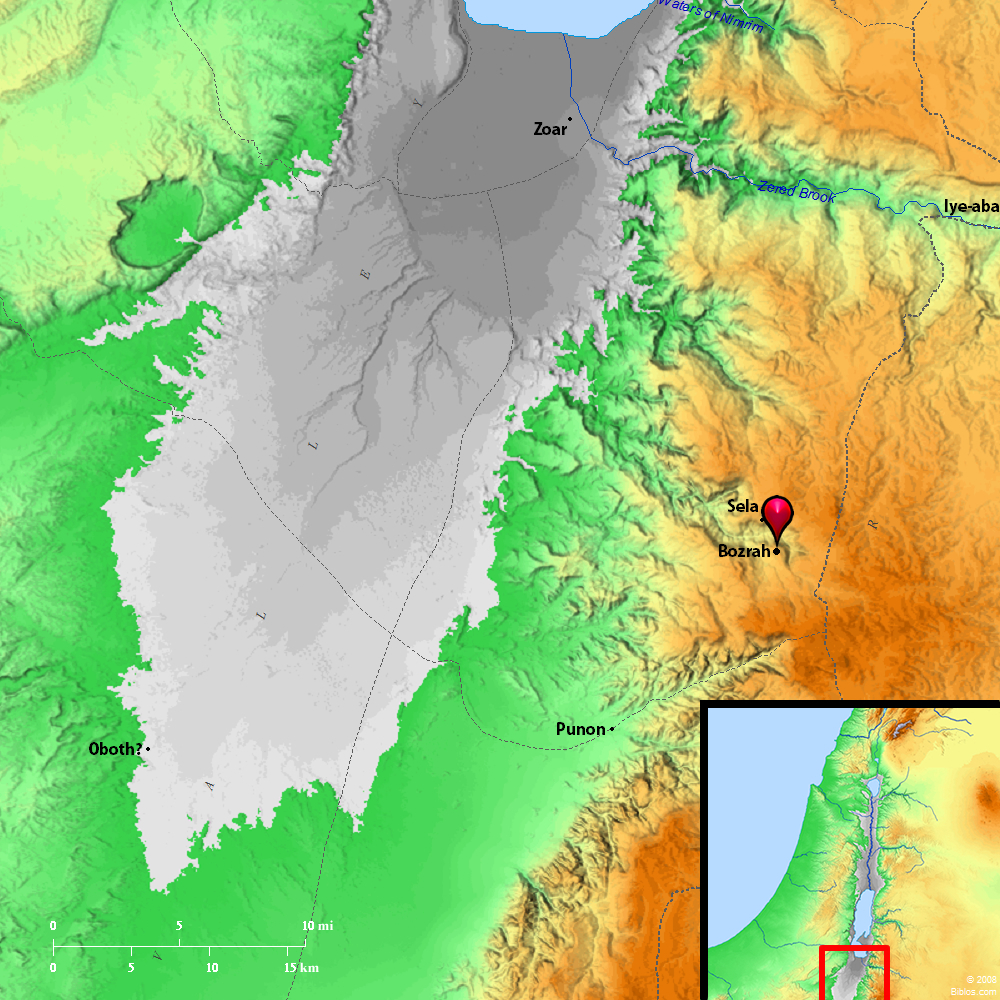 ---
Maps Created using Biblemapper 3.0
Additional data from OpenBible.info
---
You are free to use up to 50 Biblos coprighted maps (small or large) for your website or presentation. Please credit Biblos.com.
Occurrences
Genesis 36:33
Bela died, and Jobab, the son of Zerah of Bozrah, reigned in his place.
1 Chronicles 1:44 Bela died, and Jobab the son of Zerah of Bozrah reigned in his place.
Isaiah 34:6 Yahweh's sword is filled with blood. It is covered with fat, with the blood of lambs and goats, with the fat of the kidneys of rams; for Yahweh has a sacrifice in Bozrah, And a great slaughter in the land of Edom.
Isaiah 63:1 Who is this who comes from Edom, with dyed garments from Bozrah? this who is glorious in his clothing, marching in the greatness of his strength? "It is I who speak in righteousness, mighty to save."
Isaiah 63:2 Why are you red in your clothing, and your garments like him who treads in the wine vat?
Isaiah 63:3 "I have trodden the winepress alone; and of the peoples there was no man with me: yes, I trod them in my anger, and trampled them in my wrath; and their lifeblood is sprinkled on my garments, and I have stained all my clothing.
Isaiah 63:4 For the day of vengeance was in my heart, and the year of my redeemed is come.
Isaiah 63:5 I looked, and there was none to help; and I wondered that there was none to uphold: therefore my own arm brought salvation to me; and my wrath, it upheld me.
Isaiah 63:6 I trod down the peoples in my anger, and made them drunk in my wrath, and I poured out their lifeblood on the earth."
Jeremiah 49:13 For I have sworn by myself, says Yahweh, that Bozrah shall become an astonishment, a reproach, a waste, and a curse; and all its cities shall be perpetual wastes.
Jeremiah 49:22 Behold, he shall come up and fly as the eagle, and spread out his wings against Bozrah: and the heart of the mighty men of Edom at that day shall be as the heart of a woman in her pangs.
Amos 1:12 but I will send a fire on Teman, and it will devour the palaces of Bozrah."
Encyclopedia
BOZRAH
boz'-ra (botsrah, "sheepfold"; Bosorrha, Bosor):

(1) The capital of Edom, a city of great antiquity (Genesis 36:33 1 Chronicles 1:44 Isaiah 34:6; Isaiah 63:1 Jeremiah 49:13 Amos 1:12). It may be identical with Buceirah, which lies about 7 miles Southwest of Tufileh, on the main road to Petra.

(2) A city in Moab mentioned in Jeremiah 48:24. It is probably identical with Bezer, the city of refuge. It may be represented today by Qusur Bashair, which towers lie some 15 miles Southeast of Dibon. In this case Beth-gamul would be identical with Jemail, 8 miles East of Dibon, and Beth-meon with Ma`in, Southwest of Medebah.

W. Ewing
---
BOZ'RAH, there were two cities of this name.
1. Bozrah of Edom, now Buseirah, some 20 ms. s. of the Dead Sea and half way between it and Petra. It contains about 50 houses with some ruins. First mentioned in Gen. 36:33.
2. The other Bozrah is that of Moab, and it has been supposed to be identified with the modern Buzrah, 60 miles south of Damascus but this place is too far off from Moab and the supposition is doubtful.
Strong's Hebrew
H1224: Botsrah
"fortress," a city in Edom, also one in Moab