Atlas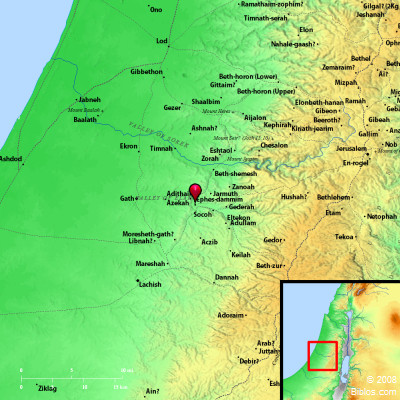 ---
Maps Created using Biblemapper 3.0
Additional data from OpenBible.info
---
You are free to use up to 50 Biblos coprighted maps (small or large) for your website or presentation. Please credit Biblos.com.
Occurrences
1 Chronicles 11:13
He was with David at Pasdammim, and there the Philistines were gathered together to battle, where there was a plot of ground full of barley; and the people fled from before the Philistines.
Encyclopedia
PAS-DAMMIM
pas-dam'-im.

See EPHES-DAMMIM.
---
PAS-DAM'MIM, also Ephes-dammim, it was in the valley of Elah, now Damum, 13 1/2 ms. w.s.w. from Jerusalem. Conder has omitted this place on his Atlas maps entirely. It is on Smith & Grove's Atlas as above and Van de Velde thought he identified it, but it is doubtful.
Strong's Hebrew
H6450: Pas Dammim
"palm of blood," a place in Judah