Atlas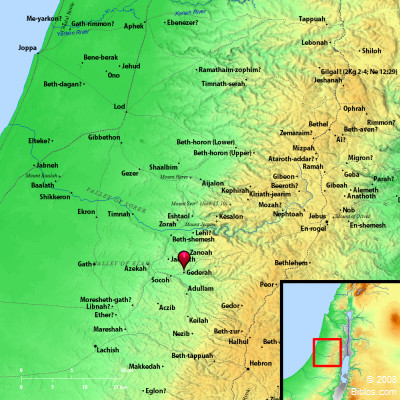 ---
Maps Created using Biblemapper 3.0
Additional data from OpenBible.info
---
You are free to use up to 50 Biblos coprighted maps (small or large) for your website or presentation. Please credit Biblos.com.
Occurrences
Joshua 15:36
Shaaraim, Adithaim and Gederah (or Gederothaim); fourteen cities with their villages.
Encyclopedia
GEDEROTHAIM
ged-e-ro-tha'-im (gedherathayim, "place of enclosures"): Stands as the 15th in a list which professes to give only the names of 14 cities in the Judean Shephelah (Joshua 15:36). the King James Version margin suggests that we might read "or" for "and" after Gederah, but this is impossible. Septuagint reads, "and its cattle shelters." Probably, however, the name has arisen by dittography from the preceding GEDERAH (which see).
Strong's Hebrew
H1453: Gederothayim
"double wall," a place in Judah