Atlas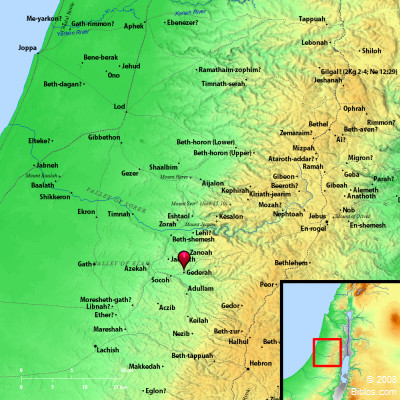 ---
Maps Created using Biblemapper 3.0
Additional data from OpenBible.info
---
You are free to use up to 50 Biblos coprighted maps (small or large) for your website or presentation. Please credit Biblos.com.
Occurrences
Joshua 15:41
Gederoth, Beth Dagon, Naamah, and Makkedah; sixteen cities with their villages.
2 Chronicles 28:18 The Philistines also had invaded the cities of the lowland, and of the South of Judah, and had taken Beth Shemesh, and Aijalon, and Gederoth, and Soco with its towns, and Timnah with its towns, Gimzo also and its towns: and they lived there.
Encyclopedia
GEDEROTH
ged'-e-roth, ge-de'-roth (gedheroth): A town in the Shephelah of Judah, named with Kithlish, Beth-dagon, Naamah and Makkedah (Joshua 15:41). It is mentioned along with Bethshemesh and Aijalon as taken by the Philistines in the reign of Ahaz (2 Chronicles 28:18). It possibly corresponds with the "Kidron" of 1 Maccabees 15:39, 41; 16:09. Eusebius, Onomasticon places a very large village named Gedrom 10 Roman miles from Lydda on the road to Eleutheropolis. This points to Katrah, Southeast of Yebnah.
Strong's Hebrew
H1450: Gederoth
"walls," a place in Judah