Atlas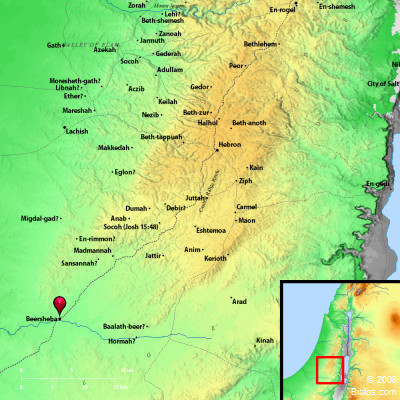 ---
Maps Created using Biblemapper 3.0
Additional data from OpenBible.info
---
You are free to use up to 50 Biblos coprighted maps (small or large) for your website or presentation. Please credit Biblos.com.
Occurrences
Joshua 15:29
Baalah, Iim, Ezem,
Encyclopedia
BAALAH
ba'-a-la ba`alah; ("possessor," "mistress "): Three occurrences of this name:

(1) = KIRIATH-JEARIM (which see) (Joshua 15:9, 10 1 Chronicles 13:6).

(2) A city in the Negeb of Judah (Joshua 15:29). In Joshua 19:3 Balah and in 1 Chronicles 4:29 Bilhah; perhaps also Boaloth of Joshua 15:24. The site is unknown; but see PEF, III, 26.

(3) Mount Baalah (Joshua 15:11), a mountain ridge between Shikkeron (Ekron) and Jabnoel unless, as seems probable, the suggestion of M. Clermont-Ganneau (Rev. Crit, 1897, 902) is correct that for har (= "mount"), we should read nahar ("river"). In this case the border in question would be the Nahr rubin. Here there is an annual feast held-attended by all classes and famous all over Syria-which appears to be a real survival of "Baal worship."

E. W. G. Masterman
Strong's Hebrew
H1173: Baalah
the name of several places in Isr.