Atlas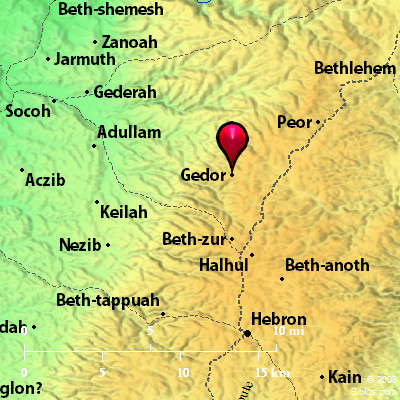 ---
Maps Created using Biblemapper 3.0
Additional data from OpenBible.info
---
You are free to use up to 50 Biblos coprighted maps (small or large) for your website or presentation. Please credit Biblos.com.
Occurrences
Joshua 12:13
the king of Debir, one; the king of Geder, one;
Encyclopedia
GEDER
ge'-der (gedher): A royal city of the Canaanites taken by Joshua along with Lachish, Eglon, Gezer, Debir and Hormah (Joshua 12:13 f). It may be the city called "Beth-gader" in 1 Chronicles 2:51, and the birthplace of Baal-hanan, who had charge of David's olives and sycamores (27:28); unidentified.
Strong's Hebrew
H1445: Geder
a city in Canaan